DIN Flanged Stainless Steel Gate Valve
Description
To maximize performance and lifespan, our DIN flanged stainless steel gate valves (a kind of flanged sluice valves) are not designed for modulating fluid flow. Instead, this kind of DIN valves is best used for cutting through sticky and dense petroleum liquids, permitting and preventing high fluid flow but with negligible friction loss.
Application
DIN flanged stainless steel gate valves are widely applied in such pipelines in the fields of tap water, sewage, construction, petroleum, chemical, food, medicine, textile, electric power, shipbuilding, metallurgy, energy system, etc.
Features
1. Small flowing resistance.
2. Easy to open and close, and convenient to install.
3. Very low frequency of water hammer phenomenon.
4. Low opening torque.
5. High corrosion resistance.
6. 18 months' warranty.
Attention
1. When choosing DIN flanged stainless steel gate valves, customers should pay more attention to the working pressure and temperature, sealing performance, diameter, structure, connection size and medium involved.
2. Before installing this flanged sluice valve, please check valve body, sealing surface and other parts to avoid any dirt attachment.
3. The installing position, height and the direction of entrance and exit should be complied with the design specifications. Bolts at any connection joint should be fastened.
Maintenance of DIN Flanged Stainless Steel Gate Valve
1. Hand wheel, handle, and transmission structure cannot be lifted up and down.
2. Dual flanged sluice valves should be installed vertically, that's to say, the stem is in vertical direction and handle wheel is at the top.
3. If by-pass valve is combined, the by-pass valve should be open first to balance the entrance and exit's pressure and reduce the opening force.
4. If DIN valves are used frequently, please lubricate them at least once per month. And they should be maintained regularly.
Payment, Package and Transportation
We accept such payments as T/T, D/P, D/A, or L/C. Our DIN flanged stainless steel gate valves will be packed in standard wooden boxes and delivered by railway, sea, or airplane.
Structure of DIN Flanged Stainless Steel Gate Valve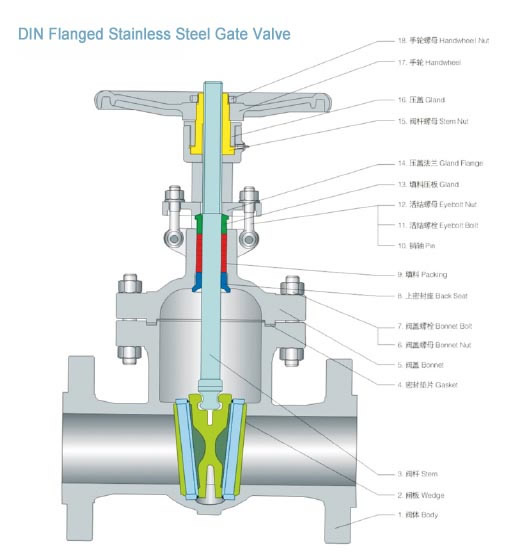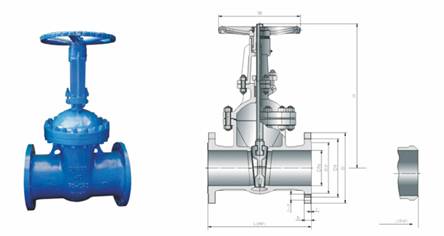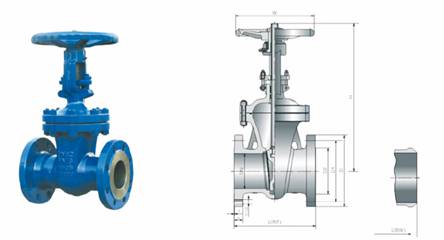 Related Product
API Flanged Cast Steel Bellows Seal Gate ValveThe API bellows seal gate valve is of flange end and made up of cast steel. This cast steel gate valve is applicable for cutting and connecting medium in pipelines. It is often used in various industries pipelines such as petroleum, chemical, pharmacy, electric power plants, etc. This kind of flanged gate valve should not be used for regulating flow, unless they...