DIN Flanged Cast Steel Gate Valve
Description
DIN flanged cast steel gate valve is designed to be fully opened or closed. This DIN gate valve is primarily used to permit or prevent the flow of liquids, but typically, it should not be used for regulating flow, unless it is specifically designed for that purpose. If used to regulate flow, the sealing surface of this flanged valve will be damaged because of a relatively high fluid velocity.
Application
DIN flanged cast steel gate valves are widely used in such pipelines in the fields of tap water, sewage, construction, petroleum, chemical, food, medicine, textile, electric power, shipbuilding, metallurgy, energy system, etc.
Advantages
1. The opening torque is small, saving labor and leading a long service life.
2. Valve body is high corrosion resistant.
3. The surface of this flange valve is processed twice, so it is smooth and fine in appearance.
4. Valve clacks are machined by CNC.
5. These DIN gate valves are convenient and fast to maintain.
6. Our gate valves are API 6D / CE certified.
Features of DIN Flanged Cast Steel Gate Valve
1. Minimum flow restriction. Easy to open and close.
2. Very low frequency of water hammer phenomenon.
3. Convenient to install.
Maintenance
1. Hand wheel, handle, and transmission structure of this flanged valve cannot be hoisted. And collision is prohibited.
2. Please refer to operating manual when installing those DIN gate valves with transmission structure.
3. If DIN flanged cast steel gate valves are used frequently, please lubricate them at least once per month.
Attention
1. When choosing gate valves, please pay much importance on such factors as valve type, connection size, etc.
2. Before installing DIN gate valves, please check valve body, sealing surface and other parts to avoid any dirt attachment.
3. Bolts at any connection joint should be fastened.
4. When installing, some space should be left to actuate easily.
5. Our flange valves should be maintained regularly. Avoid collision or extrusion.
Payment, Package and Transportation
1) Payment such as T/T, D/P, D/A, L/C is accepted.
2) DIN flanged cast steel gate valves are packed in standard wooden boxes.
3) We deliver our DIN gate valves by railway, sea, or airplane.
Structure of DIN Flanged Cast Steel Gate Valve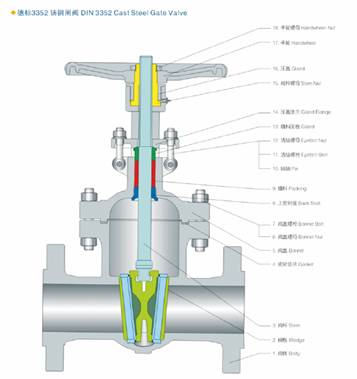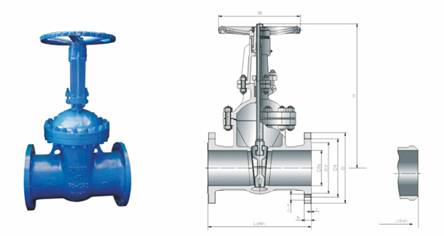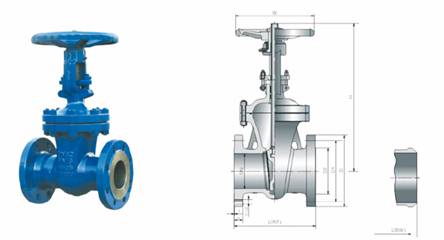 Related Product
DIN Flanged Stainless Steel Gate ValveTo maximize performance and lifespan, our DIN flanged stainless steel gate valves (a kind of flanged sluice valves) are not designed for modulating fluid flow. Instead, this kind of DIN valves is best used for cutting through sticky and dense petroleum liquids, permitting and preventing high fluid flow but with negligible friction loss.DIN flanged stainless steel gate valves are widely...