DIN Flanged Cast Steel Bellows Seal Gate Valve
Description
Bellow sealed gate valves are mainly used for permitting or preventing the flow of liquids in pipelines. They are of DIN standard and flange end. Those DIN gate valves are widely applied in such pipelines in the fields of tap water, sewage, construction, petroleum, chemical, food, medicine, textile, electric power, shipbuilding, metallurgy, energy system, etc.
Performance
1. Bellow sealed gate valve is easy to open and close, and convenient to install and maintain.
2. Due to its high height, this DIN gate valve takes longer time to open and close, thus leading low frequency of water hammer phenomenon.
3. Featuring simple structure and excellent technique, flanged gate valves can be applied in various fields.
4. Stem of bellow sealed gate valve adopts bellows and the packing part adopts dual sealing structure, ensuring no leakage, best suitable for inflammable, explosive, toxic and expensive medium pipelines. Besides, bellows uses stainless steel or inconel material, reasonable in structure, thus guaranteeing longer service life.
5. The opening torque of this DIN gate valve is low.
6. Valve body of bellow sealed gate valve is cast in precision, having high corrosion resistance.
7. Surface of this flanged gate valve is processed twice, so it is smooth and fine in appearance.
8. Valve clacks are machined by CNC.
9. It characterizes good sealing performance, low friction and long service life.
10. Our bellow sealed gate valves are guaranteed within first 18 months.
Main Components
This kind of DIN gate valve is mainly composed of valve body, wedge disc, bonnet, gland, bellows, bolts and nuts, gasket, etc.
Structure of Bellow Sealed Gate Valve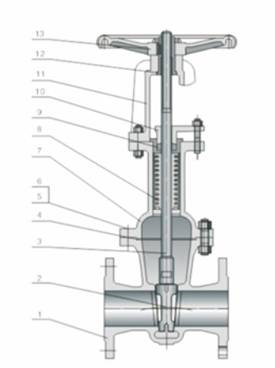 Maintenance
1. Hand wheel, handle, and transmission structure of bellow sealed gate valves cannot be lifted up and down.
2. Dual gate valves should be installed vertically, that's to say, the stem is in vertical direction and handle wheel is at the top.
3. If by-pass valve is combined with this DIN gate valve, the by-pass valve should be open first to balance the entrance and exit's pressure.
4. If those flanged gate valves are used frequently, please lubricate them at least once per month.
Attention
1. Before installing bellow sealed gate valve, please check valve body, sealing surface and other parts to avoid any dirt attachment.
2. Bolts at any connection joint should be fastened.
3. Inspect the packing part to ensure excellent sealing performance and ensure valves to open flexibly.
4. When installing, some space should be left for DIN gate valves to actuate.
5. The connection of actuating devices should be strictly conformed to circuit diagram.
6. Flanged gate valves should be maintained regularly. Avoid collision or extrusion.
Payment, Package and Transportation
We accept such payments as T/T, D/P, D/A, or L/C. Our bellow sealed gate valves will be packed in standard wooden boxes and delivered by railway, sea, or airplane.
Related Product
DIN Flanged Stainless Steel Bellows Seal Gate ValveDIN flanged stainless steel bellows seal gate valve is designed to be fully opened or closed. This DIN valve is primarily used to permit or prevent the flow of liquids, but typically, it should not be used for regulating flow, unless it is specifically designed for that purpose. If used to regulate flow, the sealing surface of this flanged stainless steel gate valve...